September 01, 2021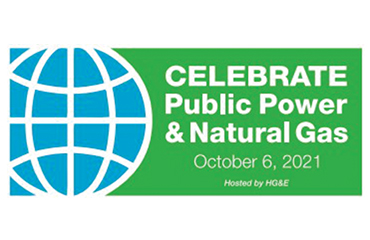 Holyoke Gas and Electric (HG&E) is inviting the local community to celebrate Public Power & Public Natural Gas Week on October 6 from 4 – 6 PM at Veterans Park. This free event will feature a little something for the entire family!
Customers will learn more about HG&E's energy efficiency opportunities, air source heat pumps, electric and natural gas safety, the local power supply portfolio, and so much more. In addition there will be music, pumpkin decorating and kids' activities, a food truck and ice cream truck!
This community celebration will feature many of HG&E's partner organizations, including:
Marcotte Ford & Gary Rome Hyundai: Displaying electric vehicles and offering test drives and education. This event will be a part of National Drive Electric Week, sign up in advance for a test drive by visiting https://driveelectricweek.org/event?eventid=2918.
Energy New England: Providing education on electric vehicles and HG&EV incentives. More info:

 

https://hgev.ene.org/
Massachusetts Department of Energy Resources : State EV incentives
Center for EcoTechnology: Free energy audits and education related to energy conservation
Valley Bike Share: Electric pedal assist bicycle service
Holyoke Fire Department: Fire and carbon monoxide safety
Holyoke Police Department: Community Policing
Valley Opportunity Council: Heating Assistance program and other services
OneHolyoke CDC : COVID Vaccine Clinic
Each October, community-owned utilities throughout the country celebrate Public Power and Natural Gas Week, collectively providing electricity and natural gas services to millions of Americans. This annual nationwide event is intended to build public awareness about the value of having a community-owned utility. Public Power & Natural Gas Week is a national, annual event sponsored in conjunction with the American Public Power Association (APPA) and the American Public Gas Association (APGA).
Per the City of Holyoke mask mandate, we ask that all attendees wear a mask to help prevent the spread of COVID-19.
Hope to see you there!