November 13, 2023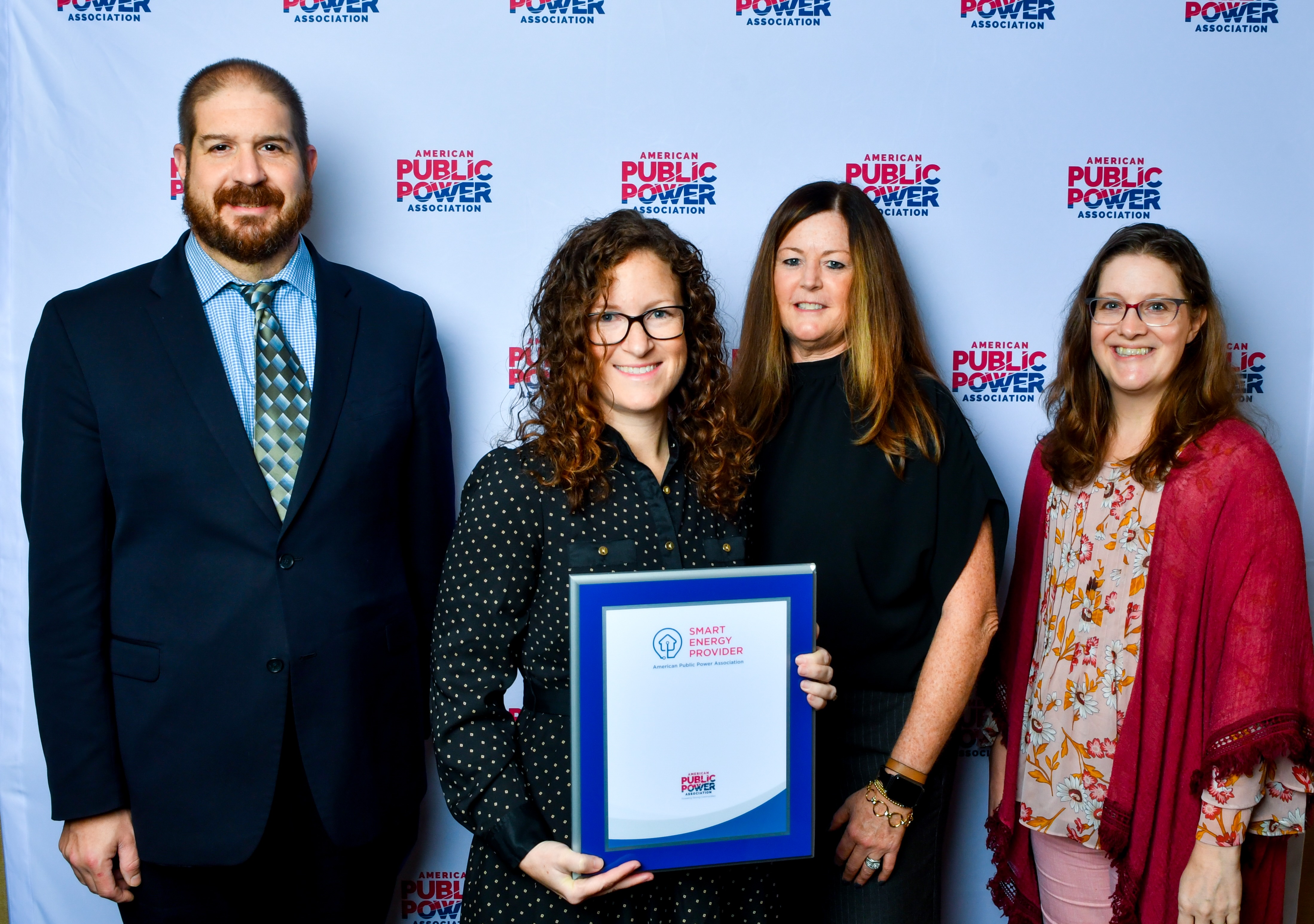 Holyoke Gas & Electric (HG&E) has earned a Smart Energy Provider (SEP) designation from the American Public Power Association for demonstrating a commitment to and proficiency in energy efficiency, distributed generation, and environmental initiatives that support the goal of providing safe, reliable, low-cost, and sustainable electric service. Kris Sellstrom, Energy and Gas Resources Manager at Jamestown Board of Public Utilities in Jamestown, New York, and chair of APPA's Energy Innovation Committee, presented the designations on November 13 in San Antonio, Texas during APPA's annual Customer Connections Conference.
The SEP designation, which lasts for two years (December 1, 2023 to November 30, 2025), recognizes public power utilities for demonstrating leading practices in four key disciplines: smart energy program structure; energy efficiency and distributed energy resources programs; environmental and sustainability initiatives; and customer experience. HG&E joins more than 90 public power utilities nationwide that hold the SEP designation.
"SEP-designated utilities have demonstrated their leadership in smart energy programs and services," said Sellstrom. "This designation celebrates utilities that are committed to serving their customers while taking the extra step to plan for the future. Communities served by utilities that have earned the SEP designation should be proud of their utility's accomplishments."
"We are honored to be recognized as a utility at the cutting edge of smart energy best practices," said James Lavelle, HG&E's General Manager. "This SEP designation represents our dedication to offering programs that keep energy affordable, support energy efficiency in our community, and reduce environmental impacts."
In addition to the SEP designation, HG&E has been recognized as a leader in utility transformation and clean energy innovation in the region by a wide range of agencies over the years, including but not limited to:
2023 Utility Transformation Leaderboard from the Smart Electric Power Alliance (SEPA), also received in 2021
Ranked 3rd out of 41 Massachusetts Municipal Electric Utilities in Mass Climate Action Networks (MCAN) 2021 scorecard
2022 Smart Electric Power Alliance (SEPA) ranked HG&E in the 95th percentile of all utilities and in the 96th percentile of all municipal utilities for utility transformation
Reliable Public Power Provider from the American Public Power Association (APPA)
Certificate of Excellence in Reliability from the American Public Power Association (APPA)
Smart Electric Power Alliance (SEPA) ranked HG&E third nationally in energy storage per capita
The Ira W. Leighton, Jr. Outstanding Innovative Technology Award from Environmental Business Council of New England for Mount Tom Solar & Energy Storage System
Energy Manager Today Project of the Year for Mount Tom Solar & Energy Storage System
Safety Achievement Award from the American Gas Association (AGA)
Massachusetts' Solar Cities & Towns 2012: Leaders in the Race Toward a Clean Energy Future – Mueller Road Solar Facility
System Operational Achievement Recognition from the American Public Gas Association (APGA)
###
HG&E is a municipally-owned utility that was formed in 1902. Today the Department provides electricity, natural gas, and telecommunications services to over 18,000 customers.
The American Public Power Association is the voice of not-for-profit, community-owned utilities that power 49 million people in 2,000 towns and cities nationwide. APPA advocates and advises on electricity policy, technology, trends, training, and operations.